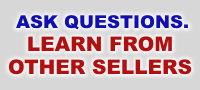 Frequently Asked Questions

---
Where do I find name brand product for 75% off store prices?
Yes, you can get prices that low for popular name brand items and few know how. I have created a page for those who would like to buy such product here. Genco, the last link on the page, is probably the best of the bunch, especially if you live in the USA or Canada. Of course, I am a bit biased, though, and some of you might like the other companies better. So, check them all out and see if they have what you are looking to sell. If you can find it in a local chain store, you are most likely able to buy it from one these several sources. Click Here.
---
Where is the resell rights documentation for the ebooks and affiliate program?
To see the "Resale Terms and Conditions", please Click Here.
---
Where do I start on your website, so I can get my ebook business going?
Good question. First, there is the general main page to start the ebook business trek: Click Here. Here is another page that gives a very good breakdown of where to find all the relevant content, strategies, methods for building your ebook business:
You mentioned personal coaching in the ad. Where do I write you for coaching?

Please write me at optasia_mail@yahoo.com to initiate the coaching. I will need for you to indicate your interests and what you would like to sell or do online, whether it is eBay(services, ebooks, name brand items), Google Adsense, Adwords(affiliate or your own products), etc. This will give me a good starting point to begin the coaching sessions via email. Send me as much detail as possible, including any prior online sales history or current things that you are working on.
---
Why should I trust your methods? Do you have any proof they work?

I have about 5 solid years of proof they work. I started doing these methods (discussed here) back in 2001 with my Bible software. Then, I branched out into preschool software, recipe software, the TV projector kit, many name brand items(hundreds of different electronics, tools, etc), info products/ebooks and a few others. All of them using the a couple different methods I developed.
For instance, all these type of products below work with my main dutch category featured method:
ebooks
informational products
content(ebook) CDs
printed manuals(ebook)
small accessories(for electronics, musical instruments, car audio, cell phones, etc.)
some other types of items

I have had about 1.5 to 2 dutch category featured auctions ending a day for the last 5 years. That is 2000 to 3000 category featured auctions, each costing $20 to $30 dollars. You can't spend that type of money unless you are really making some good money. That is $60,000+ in ebay fees just for this type of method alone.
---
Man, I give up. How do I cancel my subscription?
Not sure why, but I get calls on this one once in a while. I have hundreds of subscribers, so obviously someone is not going to be pleased. Here is how you can cancel your subscription:
Log into Paypal.com.
Click on the "History" tab at the midtop/center of your screen. Scroll down until you see either the subscription instance or the last monthly payment of $5.95 to my company (Saledaddy.com).
Click on it and at the top, you will see a subscription ID tag. Click on it.
Scroll down until you see a "Cancel Subscription" type button and click on it and confirm your cancelation.
---